Daniel Tiger's Neighborhood (known as Daniel Tiger's Neighbourhood in Canada, abbreviated to DTN) is an American-Canadian animated children's television series produced by Fred Rogers Productions, 9 Story Media Group, and Out of the Blue Enterprises. The program, which is targeted at preschool-aged children, is based on the Neighborhood of Make-Believe from Mister Rogers' Neighborhood, the long-running family-oriented television series created and hosted by Fred Rogers.
This animated preschool series features Daniel a shy but brave four-year-old tiger, who lives in the beloved neighbourhood of Make Believe.
With the help of his neighbours, family, and friends — O the Owl, Prince Wednesday and Katerina Kitty — Daniel learns key skills necessary for school and for life.
The series is also Winner of 2018 Emmy Award for Best Outstanding Preschool Childeren's Annimated Series and also It has been broadcasting in 75+ Countries and translated into more than 50 languages.
On July 29, 2019, the series was renewed for a fifth season and Tamana Agency is pleased to announce that soon it will be brought to Afghan Kids on Ariana Television.
Episode Synopses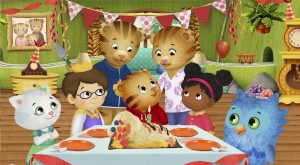 Daniel's Birthday
It's Daniel Tiger's birthday! Daniel goes to the bakery to pick up his birthday cake with help from his friends O the Owl and KaterinaKittycat.
But on the way home Daniel finds that his special tiger cake has been smushed and he is very disappointed.
Leave it to Mom and Dad to teach Daniel that 'when something seems bad turn it around and find something good!"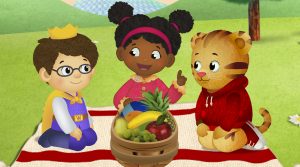 Daniel's Picnic
Daniel Tiger, Prince Wednesday, and Miss Elaina pack a big basket full of fruit and head outside for a picnic. They are having a wonderful time until a little rain almost ruins the outing! Daniel Tiger is very sad, but when Dad Tiger moves the picnic into the clock factor, Daniel realizes that having a picnic inside can be just as much fun.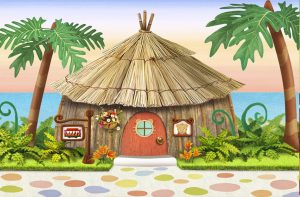 Daniel Tiger's Neighbourhood was developed by the acclaimed Fred Rogers Company, producer of the landmark hit series Mister Roger's Neighbourhood, which first debuted in 1967 and continued airing on public television for more than forty years. Executive Producers of Daniel Tiger's Neighbourhood are Kevin Morrison, for the Fred Rogers Company, Angela C. Santomero, cofounder of Out of the Blue Enterprises and the creative force behind the hit Blue's Clues and 9 Story's Vince Commisso. 9 Story also bring its award-winning animation capabilities to the production.
CHARACTERS BIOGRAPHY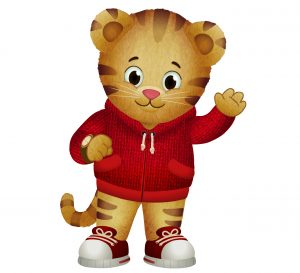 Daniel Tiger
Daniel is a sweet, creative, and very curious 4-year-old preschooler. He is always willing to engage with his world and eagerly asks questions.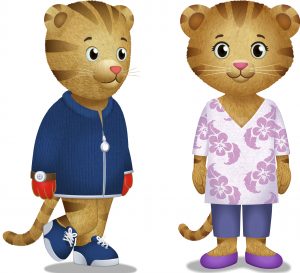 Mom and Dad Tiger
Mom Tiger is always ready with a tiger-hug, a fun game or a yummy new snack for Daniel. Dad Tiger is a soft-spoken and methodical in everything he does, especially his work at the neighbourhood clock factory, but he's often full of surprises!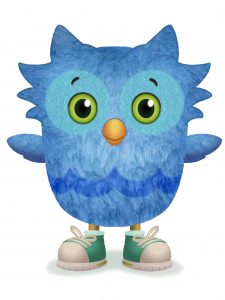 O the Owl
O the Owl is a 4-year-old precocious, analytic, book-loving little owl. He's constantly on the lookout for something "niftygalifty" to learn.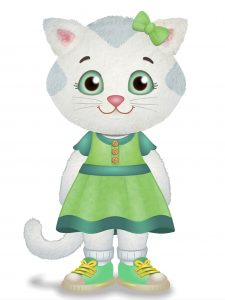 KaterinaKittycat
KaterinaKittycat is an energetic, artistic 4-year-old kitten playing pretend and ballet. She is a very loyal friend and quick to stand up for anyone getting picked on.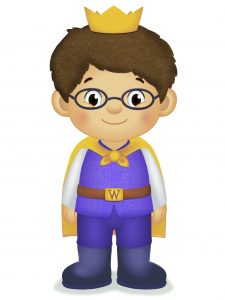 Prince Wednesday
Prince Wednesday is a silly jokester with a carefree attitude, despite his royal upbringing. He's a rough-and-tumble little guy who loves the outdoors, especially the muddy parts!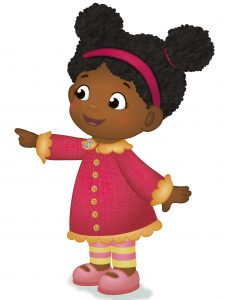 Miss Elaina
Miss Elaina is an impulsive, imaginative, preschool girl with an infectious giggle whose mischief-making often lands her in hot water!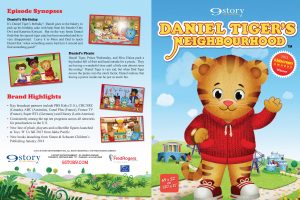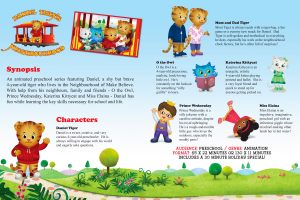 If you already have missed watching this amazing cartoon on TV, don't worry…you can now watch it anywhere any time on YouTube:https://www.youtube.com/channel/UCAf8QEsrHqTVBKIvxAMaixw